Who we are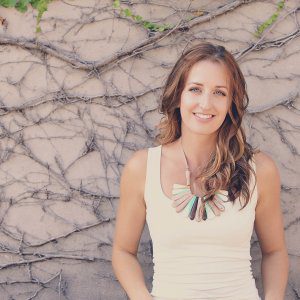 Jenefer
Director and Principal Designer
With over 10 years experience as an Interior Designer, Jenefer has already formed a solid reputation within the industry. Jenefer's design approach is based upon forming a personal connection with her clients, listening to their ideas that even they might not have realised. In this way Jenefer is able to provide the client with a design solution that truly reflects both the clients practical & lifestyle needs. Her passion for exploring new materials, finishes and construction methods has enabled her to create innovative, individual, award-winning designs for her clients. Jenefer's passion for design has led her to be heavily involved within the industry as a committee member, and previously chairperson for the Victorian Committee of the KBDi (Kitchen & Bathroom Designers Institute).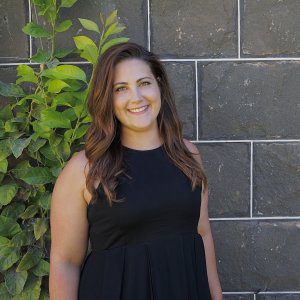 Katie
Senior Designer
With an Honours Degree in Interior Design from RMIT University, and a decade of experience in the kitchen and bathroom sector under her belt, Katie has been the Senior Designer at eat.bathe.live since 2017. Having previously worked as the lead designer for a Melbourne based building and renovations company, she brings a wealth of both creative and practical experience to the team. Katie has been a passionate member of the KBDi (Kitchen and Bathroom Designers Institute) throughout her career; and is dedicated to continually developing her knowledge of new materials and design trends to ensure she creates a solution for her clients that is as unique and individual as they are.
---
What we do
At eat.bathe.live, we offer a full interior design package from initial concept and selection through to working drawings and documentation for construction. We also provide our clients and their trades with consultations throughout the construction phase to achieve a premium finish. We specialise in Residential interior design, particularly Kitchens and Bathrooms, although we work on many larger renovations and new homes with scope of works including everything from flooring and paint colour selection through to window coverings and decoration if required. The eat.bathe.live team is also experienced in retail, hospitality and corporate spaces.

Design
planning of internal layouts
concept design & design development – kitchens, bathrooms & ancillary spaces
custom cabinetry design & inbuilt furniture
working drawings & documentation for construction
electrical plans
rendered 3d drawings
provide tender documents to reputable supplier & trade contacts
design consultation through construction process
Specification
selection of finishes – interior
selection of finishes – exterior
selection of fittings
selection of lighting and electrical fittings
specification of cabinetry hardware and accessories
Decorative
styling of interior spaces
furniture specification & placement
selection & recommendation of window furnishings
colour scheme consultation
selection of artwork
---
How we work
Collaboration is key within eat.bathe.live's process, from inception of the brief, through to successful completion of the project we cultivate strong relationships with our clients, architects, builders, cabinet makers & suppliers. We strive to form a personal connection with each & every client, ensuring a unique design solution is formed to suit their individual requirements. Our design development will often push the boundaries of our clients initial ideas, by exploring innovative use of materials, finishes and construction methods to create a final design that exceeds their expectations.
It can be helpful to have an idea of how the design process works, so we have included a sample below of the typical design process. Please keep in mind that as each design and specification is unique, the exact design process can vary from one project to the next.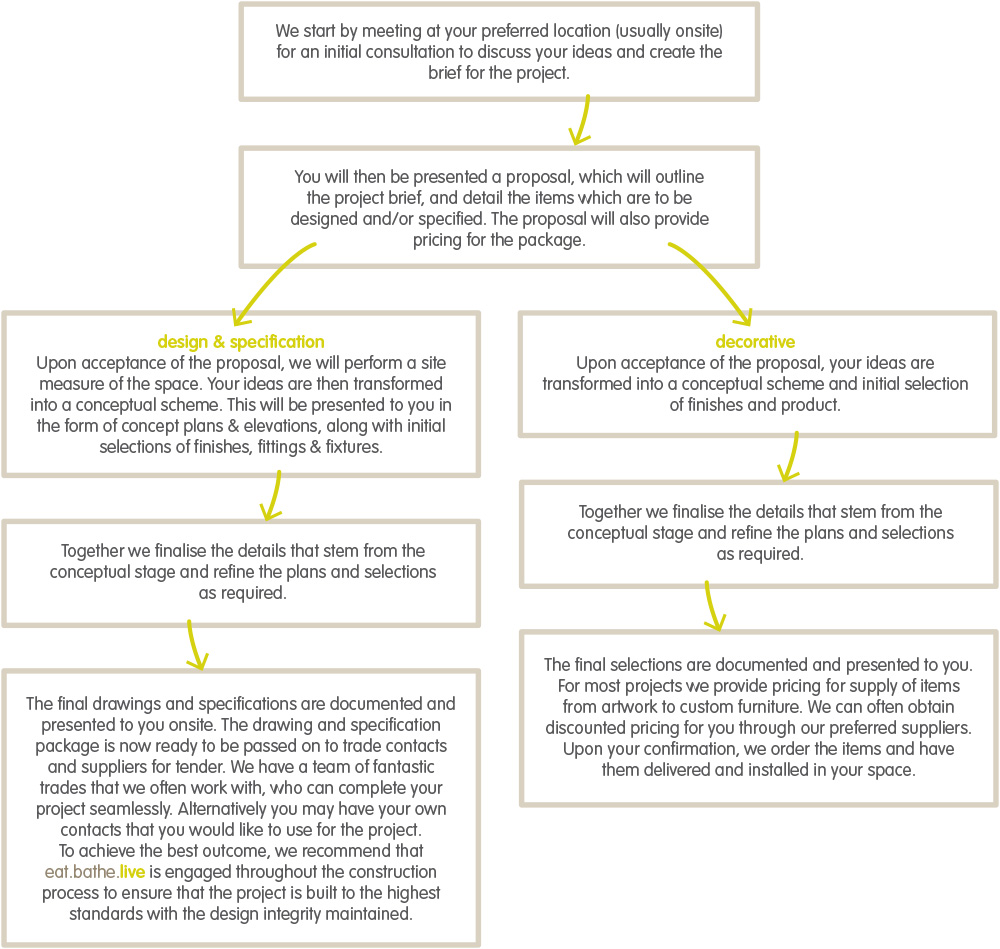 ---
Testimonials
We could not have had a more positive experience working with Jenefer from eat.bathe.live on our recent home renovation. As keen as we were to take on the challenge of a renovation, we had no idea where to start. From our first meeting with Jen she clearly "got" what we were after even though I felt like we didn't really know! Jen presented a well detailed proposal from the beginning – we can confidently say from the initial enquiry through to the planning of the reno as well as the project management & completion of the build; her level of professionalism and exemplary communication was second to none. Jens attention to detail is incredible, her creative use of space has completely transformed our home and we would not hesitate in seeking Jenefers services again or to recommend her and her team to anyone we know.
– Nicola, Malvern East
It's a beautiful thing when intelligence and passion come together, this is what we found to be true when we met Jenefer. We engaged Eat Bathe Live through recommendation to restore and artfully refit a time ravaged 1930's Art Deco apartment. Our desire was to compliment the era of the apartment with a new kitchen and bathroom. Jenefer embraced our specifications and ideas and gave us an exciting, inspiring and ultimately liveable space. The options of finishes and appliances provided were exemplary and sympathetic of the budget provided. The final options were always within specification and yielded a broader understanding of the space than we could have imagined. Jenefer seems to have a muse that places her well beyond others in her field. Our recommendation of her could in sincerity not be higher.
– Heath, St Kilda East
We initially contacted eat.bathe.live for some ideas on our upcoming bathroom/kitchen renovations. Jenefer's vast knowledge of products and design became evident as she gave us various options that were in keeping with our period home but also with a modern twist. She worked within our budget and liaised with tradesmen on our behalf. We loved her ideas and were truly pleased with the outcome. Jenefer was a delight to deal with- always very professional, available and pleasant. We had so much faith in Jenefer's ability/vision that we contracted her to totally redesign our kitchen and develop an entertainment/fireplace wall for our living room.
We look forward to working with eat.bathe.live on future projects.
– Vicki, Sandringham
Jenefer designed, sourced fittings and furnishings and offered expert guidance on the renovation of our bathroom, European laundry and bedrooms. Her guidance enabled us to achieve a modern look but also one that respects the existing period features of a Victorian Terrace house.
Jenefer quickly identified our style preferences and always provided several alternatives for consideration during the design and fitting selection process. This made the whole process seamless. We are very happy with the finished product – thanks Jenefer!
– Amber, North Carlton
eat.bathe.live were incredible throughout every stage of our build. Jenefer was flexible with meetings, prompt, creative and her understanding of our needs was evident with every draft she presented. Her flair for unique products and stylish fittings were exactly what we were looking for. Her knowledge of suppliers, materials and tradesmen made for such smooth project management during the project. The finished product is a dream and we could never have imagined such a fantastic result. We cannot recommend eat.bathe.live highly enough.
– Alex, Geelong
We have worked with Jenefer Macleod of Eat Bathe Live on quite a few projects, both domestic and commercial, in the past couple of years. Her design creativity, sense of colour, texture and style, and her ability to work within a financial and time budget meant that we were happy with the result on all our projects. She understands our requirements and our tastes and has the capacity to visualize concepts for both domestic and commercial settings. Jenefer took our projects from concept through to completion with professionalism and a minimum of fuss, also being the interface between us and the trades she employed. Her easy manner and communication style meant that we all had fun working together and will continue to do so for future projects. I would not hesitate in recommending Jenefer as a creative and talented designer.
– Patricia, various projects
Williams Cabinets first had the pleasure of meeting and working with Jenefer of eat.bathe.live on one of their projects in Yarravile in January, 2013. From the outset we found Jenefer and eat.bathe.live extremely passionate, professional and accommodating. Both the design, functionality and paperwork was of the highest standard and most importantly the final outcome of the project was absolutely stunning, leaving an extremely happy client and us wanting to work together on future projects.
Since then Williams Cabinets and eat.bathe.live have worked on many projects together, each of them being a beautiful and individual design put together by Jenefer and her incredible talent. We've been so impressed by Jenefer and eat.bathe.live we've referred her onto other builders that Williams Cabinets work with whom all have had an equally impressive result.
We would like to thank Jenefer and eat.bathe.live for their ongoing support and entrusting Williams Cabinets to work on their projects for them.
– Williams Cabinets, various projects